Chronic health conditions make it hard to take care of yourself as you age. Your mom learned the hard way as she failed to do something and ended up in the hospital. She's coming home, and it's time to address what chronic health conditions she has and what home health care services are going to help. Here are four chronic health conditions that benefit from nurse visits.
Cancer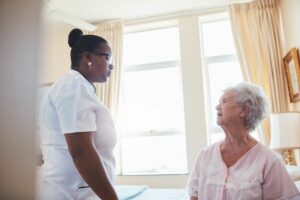 Cancer is a prevalent chronic condition, and the risk is higher the older you get. If your mom has cancer, she may need to undergo surgery, in which case incision care and pain medication administration are services nurses help with.
Chemo and radiation are often recommended after surgery. These treatments can make your mom feel weak and sick. Nurses can set up IVs and administer fluids to prevent dehydration. If your mom needs medications to ease nausea, her nurses consult with the doctors to make sure she has the medications she needs.
COPD
Chronic obstructive pulmonary disease (COPD) is a group of diseases that block the airways and cause breathing problems. It includes diseases like chronic bronchitis and emphysema.
If your mom has been diagnosed with COPD, she needs to make sure she's checking her blood oxygen levels regularly. With home health care services, her nurse can check her blood pressure, pulse, and oxygen saturation levels to make sure she's getting enough oxygen as he breathes. If not, his nurse can help him with oxygen treatments.
Heart Disease
Whether your mom learned she has congestive heart failure or had a heart attack, she needs to learn how to eat a heart-healthy diet. She also has to learn to manage her medications, take her blood pressure each day, and monitor her pulse. A nurse can help her learn how to do these things to take care of herself.
High Blood Pressure
High blood pressure is often called the silent killer as it's hard to diagnose. The only reason people catch it is they see their doctor and get their blood pressure taken. If your mom has high blood pressure, her diet changes to eliminate unnecessary salt, sugar, and saturated fat.
Her doctor may recommend that she work with a dietitian to learn the right meals and snacks for high blood pressure. Home health care arrangements cover her need to learn how to make the right changes to her diet to help lower blood pressure.
Diet is part of it. She also may need to increase her exercise and daily activities. If she's not active, a physical therapist can help her improve her mobility and become more active.
She'll also learn how to check her blood pressure at home. Her nurse can take the readings and report to her doctor to make sure any medications and dietary changes are starting to help.
Home health care nurses provide the care your mom needs in the comfortable setting her home provides. Before she comes home from the hospital, talk to her medical team about her care needs. Arrange home health care services to ensure she's taking care of herself and doing what her doctors recommend.
If you or a family member need to hire Home Health Care Services in Plainview NY or the surrounding areas, contact the caring professionals at Star Multi Care Services today at (631)956-8835. We are the Right Choice for Home Health Care Services!
Latest posts by Stephen Sternbach
(see all)