One great way to get seniors to move more is to get them into physical therapy services. Physical therapy is a range of exercises and movements that are designed to help seniors stay mobile and retain cognitive skills like hand/eye coordination and spatial awareness. Therapy is good for all seniors because it encourages movement and it's fun to do.
The calculated movements done in physical therapy are particularly good for seniors who have: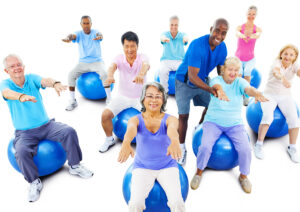 Poor Grip Strength
The exercises done in physical therapy can help seniors who have poor dexterity or grip strength. By grasping balls, catching and tossing bean bags, and performing other fun exercises seniors can improve or maintain their grip strength. Seniors need grip strength and finger dexterity to do things like hold utensils, hold a toothbrush, open cupboards and drawers, fasten buttons, pull zippers, and do lots of other necessary tasks.
Poor Mobility
Seniors can have poor mobility for many different reasons. However, working with a physical therapist can help seniors improve their balance, even out their gait, and walk more comfortably. Therapy also helps seniors with tasks like sitting in or getting up from a chair, getting into and out of bed, and other movements that they need to perform to stay independent. Seniors can do therapy at home if that's easier for them. Seniors don't need to go to a medical office or therapist's office to get the benefits of physical therapy.
Alzheimer's or dementia
Because physical therapy helps seniors combine movement and cognitive skills it's fantastic for people with Alzheimer's or dementia. Starting therapy as soon as they are diagnosed can sometimes help seniors slow down the progression of their decline. If your senior parent was recently diagnosed with Alzheimer's or another form of dementia ask their doctor about therapy and the benefits it has for seniors who have dementia.
Parkinson's
Alzheimer's isn't the only medical condition that can be helped by physical therapy. The exercises performed as part of therapy work many of the muscles that are affected by Parkinson's disease. Seniors who are in therapy can maintain their ability to pick up their feet and walk and walk without shuffling, maintain their balance, and work on maintaining the use of their hands and fingers. Seniors who have Parkinson's should get into therapy immediately if they are not already in it.
To make physical therapy more fun your senior parent may want to join a group therapy class at the local senior center or a local gym the YMCA. Doing therapy exercises often involves playing games which is much more fun with lots of people. Seniors who do group therapy get the additional bonus of being able to make friends and hang out with other seniors. Socialization is just as good for seniors as therapy.
If you or an aging loved one are considering Physical Therapy Services in Stonybrook NY, please get in touch with the caring staff at Star Multi Care today. Call (631) 424-7827
Star Multi Care is a Trusted Home Care Agency serving Long Island and in NYC including Dix Hills, Floral Park, Great Neck, Huntington, Manhasset, Massapequa, Northport, Plainview, Rockville Center, Stonybrook, Suffolk County, Nassau County, and Queens County.
Latest posts by Stephen Sternbach
(see all)