For seniors who want to live alone and family members who want to respect their choice, senior home care services are a great option. Family members can feel confident that their senior parent or loved one will have someone there regularly to help with housework and meals. And seniors will feel more confident living alone knowing that they will have someone they trust to help them when they need it.
But some unexpected benefits come with senior home care that seniors and their family members may not know about like: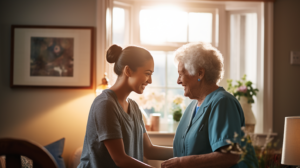 Preservation of Independence:
Senior home care helps seniors maintain their independence. The assistance they receive is designed to empower them to continue living in their own homes and making decisions about their daily lives. This sense of control can boost their self-esteem and quality of life.
Personalized Care Now And In The Future
Home care services are highly individualized, catering to the unique needs and preferences of each senior. This personalized approach ensures that seniors receive care tailored to their specific requirements, promoting their physical and emotional well-being. And the specific care that senior home care gives to seniors can change as the needs of your senior parent change.
Improved Mental Health
Seniors who receive home care often experience improved mental health. Companionship, conversation, and emotional support from caregivers can alleviate feelings of loneliness and depression. The comfort of familiar surroundings can also contribute to a more positive mindset.
Fostering Relationships
Home care can enhance family relationships by relieving the burden of caregiving from family members. Instead of struggling to provide care themselves, family members can focus on spending quality time with their loved ones, strengthening the bond between generations.
Healthier Nutrition
Caregivers can help seniors plan and prepare nutritious meals. By ensuring that seniors eat balanced and healthy foods, home care promotes better nutrition, which is essential for overall health.
Medication Adherence
Seniors often have multiple medications to manage their health. Caregivers can assist with medication management, ensuring that medications are taken correctly and on time, reducing the risk of adverse health outcomes.
Increased Physical Activity
Home care providers can engage seniors in physical activities and exercises to improve their strength and mobility. Regular physical activity can have a positive impact on seniors' physical and mental health.
Reduced Risk of Falls
Falls are a significant concern for seniors, often leading to injuries. Home care providers are trained to identify fall hazards and implement preventive measures, making the home environment safer.
Peace of Mind for Family Members
Knowing that their loved ones are receiving the care and support they need can bring peace of mind to family members who may not be able to provide the level of care required for themselves.
Professional Medical Oversight
Home care agencies often collaborate with healthcare professionals, ensuring that the senior's medical needs are addressed comprehensively. This professional oversight can lead to early detection and intervention for health issues.
Safe Transition from Hospital to Home
After a hospital stay, seniors often require extra care during their transition back home. Home care can provide the necessary support to ensure a smooth recovery and reduce the risk of readmission.
Reduced Hospitalization
Proper home care can prevent health issues from worsening, reducing the need for hospitalization. This not only saves money on medical bills but also maintains the senior's quality of life.
Cost-Effective Care
Home care is often more cost-effective than long-term care facilities or hospitals, making it a practical and affordable option for many seniors and their families.
Improved End-of-Life Care
For seniors with terminal illnesses, home care provides a compassionate and familiar environment for their end-of-life care. This can be a great source of comfort and emotional support for both the seniors and their families.
If you or an aging loved one are considering Senior Home Care Services in Dix Hills NY, please get in touch with the caring staff at Star Multi Care today. Call (631) 424-7827
Star Multi Care is a Trusted Home Care Agency serving Long Island and in NYC including Dix Hills, Floral Park, Great Neck, Huntington, Manhasset, Massapequa, Northport, Plainview, Rockville Center, Stonybrook, Suffolk County, Nassau County, and Queens County.
Latest posts by Stephen Sternbach
(see all)