Zoom, Skype, Google Hangouts: Which is the Best Video Chat System for Families?
Families that live hours from each other can rely on video chats to stay in touch. Unlike the phone, video chats give you the chance to see live video of each other. You'll hear your parents' voices, but you can also see how they look.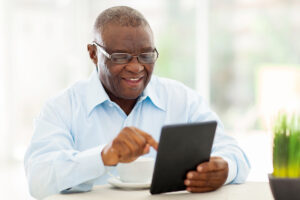 With video chat, you can identify if your parents are losing or gaining weight. You'll see if there are bruises that indicate they've fallen or walked into something. You may even get to see a little of the home behind them to see if things are clean and organized or cluttered.
When it comes to a video chat, which service is easiest for older adults to use? Do you use Google Hangouts, Skype, Zoom, or something else? How do you decide which program is best suited to your parents' abilities?
Google Hangouts
If your parents are okay installing the Hangouts app on a phone or computer, to make a video call, it's a simple push of a button. Invite others with the Group Chat feature. Google Hangouts is free and is one of the easiest services to use, so you may find your parents like this service best.
Skype
Skype also has a free service that allows you to have up to 50 people on at the same time. It's one of the best choices if you are making international calls with family members who live or are stationed overseas. Gather the whole family for a Skype video chat. Like other platforms, it's all just a click of a button to start or take a video chat.
Zoom
Zoom is free if you have a limited number of users on the call at the same time. It works effectively and is easy to use. There is a time limit on calls where there are more than two people at the same time. You can pay a monthly fee to get up to 100 people on one call at the same time. It's very unlikely you'll need the monthly plan.
Other Options
There are several other options. If your mom and dad have Facebook, they could use Facebook's video chat Messenger platform. If they use an iPhone or iPad, FaceTime is easy to use and preinstalled for their convenience.
You could make sure they never struggle with technology by having an elder care aide around. In addition to having someone there to set up the computer for a video chat, elder care aides can keep your parents company, cook their meals, remind them when to take medications, and drive them around.
Arranging elder care is easier than you might think. Call ou elder care specialist, discuss pricing and services, and schedule the services that your parents need.
If you or an aging loved one are in need of Elder Care Services in Manhasset NY or the surrounding areas, contact the caring professionals at Star Multi Care Services today at (631)956-8835. We are the Right Choice for Home Health Care Services!
Latest posts by Stephen Sternbach
(see all)