Caregiver in Plainview NY
Being a family caregiver for your elderly loved ones means putting yourself in the so-called "sandwich generation"; the segment of society that is taking care of both children and aging adults. While this gives you the opportunity to spend quality time with both generations of your loved ones,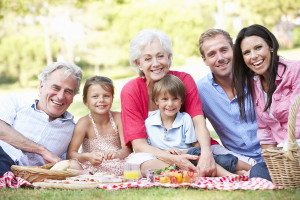 and can even let those generations learn from one another and create meaningful memories, it can also present uncomfortable and tense situations that you need to learn to handle as early in your caregiver journey as possible in order to preserve your relationship and ensure the highest quality care for everyone in your family.
One situation that many caregivers face is their aging parents overstepping their role and attempting to parent their children. When your parents try to parent your children it can bring up a wide variety of negative emotions including anger, bitterness, resentment, frustration, and guilt. You know that your parents raised you and that they have far more years of parenting experience than you do, but at the same time these are your children and you deserve to raise them in the way that you want to raise them.
Finding ways to cope with this situation as quickly and effectively as possible lets you continue to focus on giving your aging loved ones the highest quality care that you can without compromising your beliefs and convictions in your role as a parent.
Use these tips to help you confront the situation when you notice that your parents are trying to parent your children:
• Stay calm. Avoid the temptation to get angry immediately when you notice your parents overstepping their bounds and taking on parenting responsibilities. Getting angry will only strain the relationship and make your parents defensive. Instead, calm yourself down and let the first incident go. It may be a fluke and you do not want to overreact right off hand. Of course, if the breach is severe, such as your parents attempting to punish your child, then you need to react immediately, but still calmly.
• Talk about it away from the children. You do not want to turn your children against your parents, so make sure that you talk about your issues with their over-involvement in private. This is especially important if you agree, or at least partially agree, with the problem they had with your children. You do not want to undermine what they said by confronting them in front of your children.
• Stay firm. You do not want to be mean or aggressive with your parents, but it is important that you stay firm when talking to them about their tendency to parent your children. Do not seem "wishy-washy" or that you are open for compromise, as this will just open you up to facing the same situation later.
• Explain your perceptions. Be clear with your parents that you do not feel that your role as a caregiver for them, even if it means transitioning them into living in your home, means that you want them to help you raise your children, or that they have the right to parent them. Be clear on the differences in your parenting approach and that you will not be changing those perceptions. Give guidelines for how they can participate in your children's lives without meddling or taking too many liberties.
If you or an aging loved one are in need of caregiver services Plainview, NY or the surrounding areas, contact the caring professionals at Star Multi Care Services today at (631)956-8835. We are the Right Choice for Home Health Care Services!
Stephen Sternbach has been the Chairman of the Board of Directors, President, and Chief Executive Officer of Star Multi Care Services since 1987. After the sale of the New York and New Jersey operations of Star Multi Care Services, Sternbach brought the company private where he remains President and CEO of this newly developed $22M home healthcare company. With Sternbach at the helm, Star Multi Care Services employs more than 550 employees, in six offices throughout Florida, Pennsylvania, Ohio and New York.

From 1978 to 1986, Sternbach was associated with Automated Data Processing, Inc. ("ADP")–a provider of information services, where he held several marketing positions before becoming the Director of Sales.

1999-2008 Sternbach was an active participant on the Board of Directors for Proginet–a computer software company based in Garden City, New York. He also served on the Board of Trustees of the Long Island Chapter of the National Multiple Sclerosis Society from 1996-2002.

In 1996, Stephen Sternbach was named "Entrepreneur of the Year" by Ernst & Young, Paine Webber and NASDAQ. Sternbach was also named in Crain's New York Business Article, "40 Under 40" Successful Business Executives/Future Business Leaders in 1995. While maintaining a diversity of business and personal interests, Sternbach concentrated most of his efforts over the past 28 years towards continuously improving the quality of services delivered by the Star Multi Care Services' family of companies.

Stephen Sternbach holds a Master of Public Administration from Syracuse University – Maxwell School of Public Administration and a Bachelor of Arts in Industrial Relations and Personnel Administration from Ithaca College.
Latest posts by Stephen Sternbach (see all)