Elderly Care in Dix Hills NY
If your elderly loved one has a lung disease, such as COPD or asthma, you know how upsetting it can be to watch her struggle to breathe. It turns out that exercise can help your elderly loved one to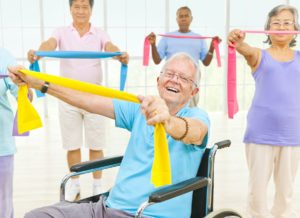 strengthen her lungs greatly. Always talk to your loved one's doctor about what types and duration of exercise are right for her before you help her start an exercise program. Her doctor can also recommend activities in the following categories that your loved one might enjoy trying.
Stretching and Flexibility Exercises
Stretching and flexibility exercises are among the ones that your elderly loved one might do when she's warming up or cooling down for other types of exercise. They're also activities that she can do on their own as a way to improve her overall flexibility. By stretching regularly, your elderly loved one can help to avoid injuring herself, either during other exercise or as a regular part of her day. Some ideas for stretching exercises could include tai chi or yoga.
Strength Exercises
Strength exercises are the kind of exercises that your loved one would turn to in order to build up her muscles. Some kinds of strength exercises can include using resistance bands, weight lifting, or even using a weight machine. Your loved one doesn't have to lift massive amounts of weight in order to get benefits, either. She might incorporate strength exercises with other types of activities in the same workout.
Cardiovascular Exercises
Cardiovascular exercises are the ones that really get your loved one's heart, lungs, and muscles working together. These types of exercises can help your loved one to build not only muscle strength, but also heart and lung strength. Doing more cardiovascular exercises can help your loved one's body learn how to use oxygen more efficiently than it does now. Exercises like walking, bike riding, and swimming are all under the category of cardiovascular activities.
Your loved one's elderly care providers can help you to plan out exercise into each day for your elderly loved one.
If you or an aging loved one are in need of

elderly care in Dix Hills, NY

or the surrounding areas, contact the caring professionals at Star Multi Care Services today at (631)956-8835. We are the Right Choice for Home Health Care Services!
Stephen Sternbach has been the Chairman of the Board of Directors, President, and Chief Executive Officer of Star Multi Care Services since 1987. After the sale of the New York and New Jersey operations of Star Multi Care Services, Sternbach brought the company private where he remains President and CEO of this newly developed $22M home healthcare company. With Sternbach at the helm, Star Multi Care Services employs more than 550 employees, in six offices throughout Florida, Pennsylvania, Ohio and New York.

From 1978 to 1986, Sternbach was associated with Automated Data Processing, Inc. ("ADP")–a provider of information services, where he held several marketing positions before becoming the Director of Sales.

1999-2008 Sternbach was an active participant on the Board of Directors for Proginet–a computer software company based in Garden City, New York. He also served on the Board of Trustees of the Long Island Chapter of the National Multiple Sclerosis Society from 1996-2002.

In 1996, Stephen Sternbach was named "Entrepreneur of the Year" by Ernst & Young, Paine Webber and NASDAQ. Sternbach was also named in Crain's New York Business Article, "40 Under 40" Successful Business Executives/Future Business Leaders in 1995. While maintaining a diversity of business and personal interests, Sternbach concentrated most of his efforts over the past 28 years towards continuously improving the quality of services delivered by the Star Multi Care Services' family of companies.

Stephen Sternbach holds a Master of Public Administration from Syracuse University – Maxwell School of Public Administration and a Bachelor of Arts in Industrial Relations and Personnel Administration from Ithaca College.
Latest posts by Stephen Sternbach (see all)