Caregiver in Manhasset NY
Lupus is an autoimmune disease that causes the immune system to attack itself. A normal immune system is meant to fight foreign substances in your body, such as viruses and germs. However, an autoimmune disease, such as Lupus, causes the immune system to instead attack healthy tissues. The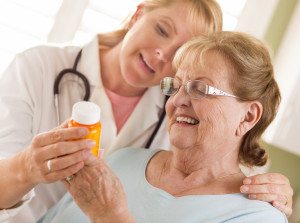 chronic inflammatory attack caused by Lupus can affect the heart, joints, skin, blood cells, lungs and/or brain. May is Lupus awareness month, so it is a great time to learn about how this chronic disease may affect your elderly parents, with what is known as elderly-onset lupus.
Symptoms of Elderly-Onset Lupus
Approximately 20 percent of the cases of elderly-onset Lupus begin in people who are aged between 50 to 65. Elderly women are much more likely to develop lupus than senior males; however, elderly men are more prone to developing lupus than are younger men. Symptoms of lupus in the elderly may include:
Arthritis
Neuropsychiatric symptoms
Serositis
Fever
Lung disease
Reynaud's Syndrome
Muscle aches
Dry mouth
Diagnosis of Elderly-Onset Lupus
It is often difficult to diagnose lupus in the elderly and it often goes undiagnosed or misdiagnosed for several years. Lupus in the elderly is often misdiagnosed as drug-induced systemic lupus erythematosus or rheumatic disease. Osteoporosis is one of the most common side effects of lupus in seniors, so symptoms are often misdiagnosed as only being osteoporosis related symptoms. Many medications that are taken for lupus, such as prednisone may lead to osteoporosis. It is important to keep in mind that everyone is different. One senior with lupus may have a fever and swollen joints, while their elderly friends with lupus may be have kidney trouble or be fatigued all of the time. Although rashes are typically a symptom of younger people with lupus, it may be a symptom in the elderly as well.
Treating Elderly-Onset Lupus
Although lupus is not a simple disease to fix, the good news is that seniors who have lupus tend to have a good response to treatment and milder symptoms than those who are younger. When the elderly and their caregivers are aware of and watch for triggers and symptoms of lupus, it is easier to have better control over the disease. Medications are available to help alleviate the pain associated with lupus, such as the joint pain and/or osteoporosis as well as to help with the fatigue. It is important to have regular checkups to monitor the disease and its progression. It is also essential for caregivers and home care staff to be aware of the symptoms as well as for seniors to communicate their concern over the symptoms.
There are a number of basic ways to manage lupus. It is important to remember that stress is one of the greatest triggers of lupus. So, it is essential to manage stress by simplifying obligations and avoiding overly stressful situations. If your elderly parent lives alone and is diagnosed with lupus, you may want to consider hiring a home care provider to help him or her manage the symptoms. For example, a home care companion could encourage your elderly parent to exercise and eat a healthy diet, both of which will help reduce the symptoms of lupus. To help reduce the risk of elderly-onset lupus it is important to monitor the development of osteoporosis and take medications if necessary, eat a well-rounded diet which will help prevent the development of plaque in the arteries and avoid smoking.
If you or an aging loved one are in need of caregiver services in Manhasset, NY or the surrounding areas, contact the caring professionals at Star Multi Care Services today at (631)956-8835. We are the Right Choice for Home Health Care Services!
Stephen Sternbach has been the Chairman of the Board of Directors, President, and Chief Executive Officer of Star Multi Care Services since 1987. After the sale of the New York and New Jersey operations of Star Multi Care Services, Sternbach brought the company private where he remains President and CEO of this newly developed $22M home healthcare company. With Sternbach at the helm, Star Multi Care Services employs more than 550 employees, in six offices throughout Florida, Pennsylvania, Ohio and New York.

From 1978 to 1986, Sternbach was associated with Automated Data Processing, Inc. ("ADP")–a provider of information services, where he held several marketing positions before becoming the Director of Sales.

1999-2008 Sternbach was an active participant on the Board of Directors for Proginet–a computer software company based in Garden City, New York. He also served on the Board of Trustees of the Long Island Chapter of the National Multiple Sclerosis Society from 1996-2002.

In 1996, Stephen Sternbach was named "Entrepreneur of the Year" by Ernst & Young, Paine Webber and NASDAQ. Sternbach was also named in Crain's New York Business Article, "40 Under 40" Successful Business Executives/Future Business Leaders in 1995. While maintaining a diversity of business and personal interests, Sternbach concentrated most of his efforts over the past 28 years towards continuously improving the quality of services delivered by the Star Multi Care Services' family of companies.

Stephen Sternbach holds a Master of Public Administration from Syracuse University – Maxwell School of Public Administration and a Bachelor of Arts in Industrial Relations and Personnel Administration from Ithaca College.
Latest posts by Stephen Sternbach (see all)