Senior Care in Plainview NY
If you are a caregiver for a senior loved one with diabetes, helping them to healthfully manage their diabetes is probably one of your top priorities.  Controlling blood sugar levels is important for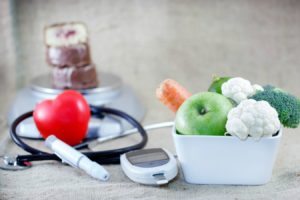 those with diabetes and having uncontrolled blood sugar levels for long periods of time can lead to many serious health problems.  Managing diabetes and keeping blood sugar under control can require a few difficult lifestyle changes that your loved one may find hard to make.  However, it is important for you as a caregiver to encourage them to maintain these new habits such as getting regular exercise and eating a healthy diet so that they do not develop any of these serious complications of diabetes:
Nerve Damage
The capillaries, or tiny blood vessels, that nourish nerves can become damaged by excessive sugar.  Nerve damage may begin as tingling or numbness in certain areas of the body, but can progress into complete loss of feeling if left untreated.  This is one very important reason why your loved one should be striving to keep their blood sugar levels under control.
Cardiovascular Disease
Being diabetic can increase your senior loved one's risk of heart problems such as heart disease, stroke, and heart attack.  Cardiovascular disease is always serious, but it can sometimes be fatal.  To prevent cardiovascular disease, it is important for your loved one to properly manage their diabetes, be consistent with healthy lifestyle changes, and routinely visit their doctor for check-ups.
Alzheimer's Disease
Though doctors aren't sure how diabetes and Alzheimer's disease are connected, seniors who have diabetes have a greater risk for developing Alzheimer's disease.  The risk for developing Alzheimer's disease is even greater in those who have not controlled their blood sugar levels.
Foot Damage
Since diabetes can lead to poor circulation and nerve damage, foot problems can occur.   Even minor cuts or blisters on the feet can lead to serious infections.  If these infections are not treated early enough, the amputation of toes, foot, or even the entire leg may be necessary.  If your loved one does get a cut or blister on their foot, it is important for you to help them to treat it properly and quickly.
Eye Conditions
Having diabetes can increase a senior's risk for eye conditions such as cataracts or glaucoma.  In addition, damage to the blood vessels of the retina can also occur as a result of diabetes, which can sometimes lead to blindness.
If you or an aging loved one are in need of

senior care in Plainview, NY

or the surrounding areas, contact the caring professionals at Star Multi Care Services today at (631)956-8835. We are the Right Choice for Home Health Care Services!
Source:  http://www.mayoclinic.org/diseases-conditions/diabetes/basics/complications/con-20033091
Stephen Sternbach has been the Chairman of the Board of Directors, President, and Chief Executive Officer of Star Multi Care Services since 1987. After the sale of the New York and New Jersey operations of Star Multi Care Services, Sternbach brought the company private where he remains President and CEO of this newly developed $22M home healthcare company. With Sternbach at the helm, Star Multi Care Services employs more than 550 employees, in six offices throughout Florida, Pennsylvania, Ohio and New York.

From 1978 to 1986, Sternbach was associated with Automated Data Processing, Inc. ("ADP")–a provider of information services, where he held several marketing positions before becoming the Director of Sales.

1999-2008 Sternbach was an active participant on the Board of Directors for Proginet–a computer software company based in Garden City, New York. He also served on the Board of Trustees of the Long Island Chapter of the National Multiple Sclerosis Society from 1996-2002.

In 1996, Stephen Sternbach was named "Entrepreneur of the Year" by Ernst & Young, Paine Webber and NASDAQ. Sternbach was also named in Crain's New York Business Article, "40 Under 40" Successful Business Executives/Future Business Leaders in 1995. While maintaining a diversity of business and personal interests, Sternbach concentrated most of his efforts over the past 28 years towards continuously improving the quality of services delivered by the Star Multi Care Services' family of companies.

Stephen Sternbach holds a Master of Public Administration from Syracuse University – Maxwell School of Public Administration and a Bachelor of Arts in Industrial Relations and Personnel Administration from Ithaca College.
Latest posts by Stephen Sternbach (see all)