MONTAUK, NY—Star Multi Care Chief Executive Officer, Stephen Sternbach, and Chief Financial Officer, David Schoenberg  hosted their annual Administrator's Meeting at the beautiful Montauk Yacht Club last week.  Fifteen of the company's management staff attended the three-day event.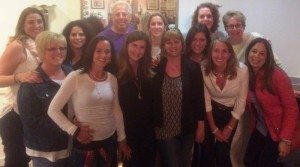 During the "Meeting of the Minds" themed event, Stephen and David took to the Boardroom to review the previous year's successes, as well as to develop new and improved programs for the upcoming fiscal year.  The primary discussions this year included evolving health care reform, wage parity issues, recruitment/retention enhancements and a social media push.  There was also a series of team building exercises that allowed the group to get out of the meeting room and into the clean Montauk air.
Debbie Kelly, Manager of Corporate Administration stated, "This event is always an encouraging and enlightening experience".   "It provides our company's leaders the opportunity to meet in person, assemble at a location that promotes collaboration and relaxation, and most importantly, to speak freely about very significant, evolving social and economic issues that our employees and clients are currently facing which potentially could affect the care we deliver", she continued.
Each year Star Multi Care hosts a similar year-end review and brain storming session with their management team.  With offices in New York, Ohio, Pennsylvania and Florida the event usually takes place in various locations throughout the eastern United States.  Stephen Sternbach's motivation is simple "I find it extremely rewarding to gather my management team, the true foundation of the success of my company, and watch them interact, share relevant experiences and exchange knowledge.  The energy and ideas generated from these events get better each year.  I truly believe this collaboration is essential and the very core of what has made our company so successful for nearly 30 years".
Star Multi Care has been providing home health care services to all ages since 1938.  For more information or for service locations near you, please visit www.starmulticare.com
Stephen Sternbach has been the Chairman of the Board of Directors, President, and Chief Executive Officer of Star Multi Care Services since 1987. After the sale of the New York and New Jersey operations of Star Multi Care Services, Sternbach brought the company private where he remains President and CEO of this newly developed $22M home healthcare company. With Sternbach at the helm, Star Multi Care Services employs more than 550 employees, in six offices throughout Florida, Pennsylvania, Ohio and New York.

From 1978 to 1986, Sternbach was associated with Automated Data Processing, Inc. ("ADP")–a provider of information services, where he held several marketing positions before becoming the Director of Sales.

1999-2008 Sternbach was an active participant on the Board of Directors for Proginet–a computer software company based in Garden City, New York. He also served on the Board of Trustees of the Long Island Chapter of the National Multiple Sclerosis Society from 1996-2002.

In 1996, Stephen Sternbach was named "Entrepreneur of the Year" by Ernst & Young, Paine Webber and NASDAQ. Sternbach was also named in Crain's New York Business Article, "40 Under 40" Successful Business Executives/Future Business Leaders in 1995. While maintaining a diversity of business and personal interests, Sternbach concentrated most of his efforts over the past 28 years towards continuously improving the quality of services delivered by the Star Multi Care Services' family of companies.

Stephen Sternbach holds a Master of Public Administration from Syracuse University – Maxwell School of Public Administration and a Bachelor of Arts in Industrial Relations and Personnel Administration from Ithaca College.
Latest posts by Stephen Sternbach (see all)